Sweet, moist and delicious yeast braids with protein and veggies packed salad. Chose your favourite herbs and spices and enjoy your Easter brunch!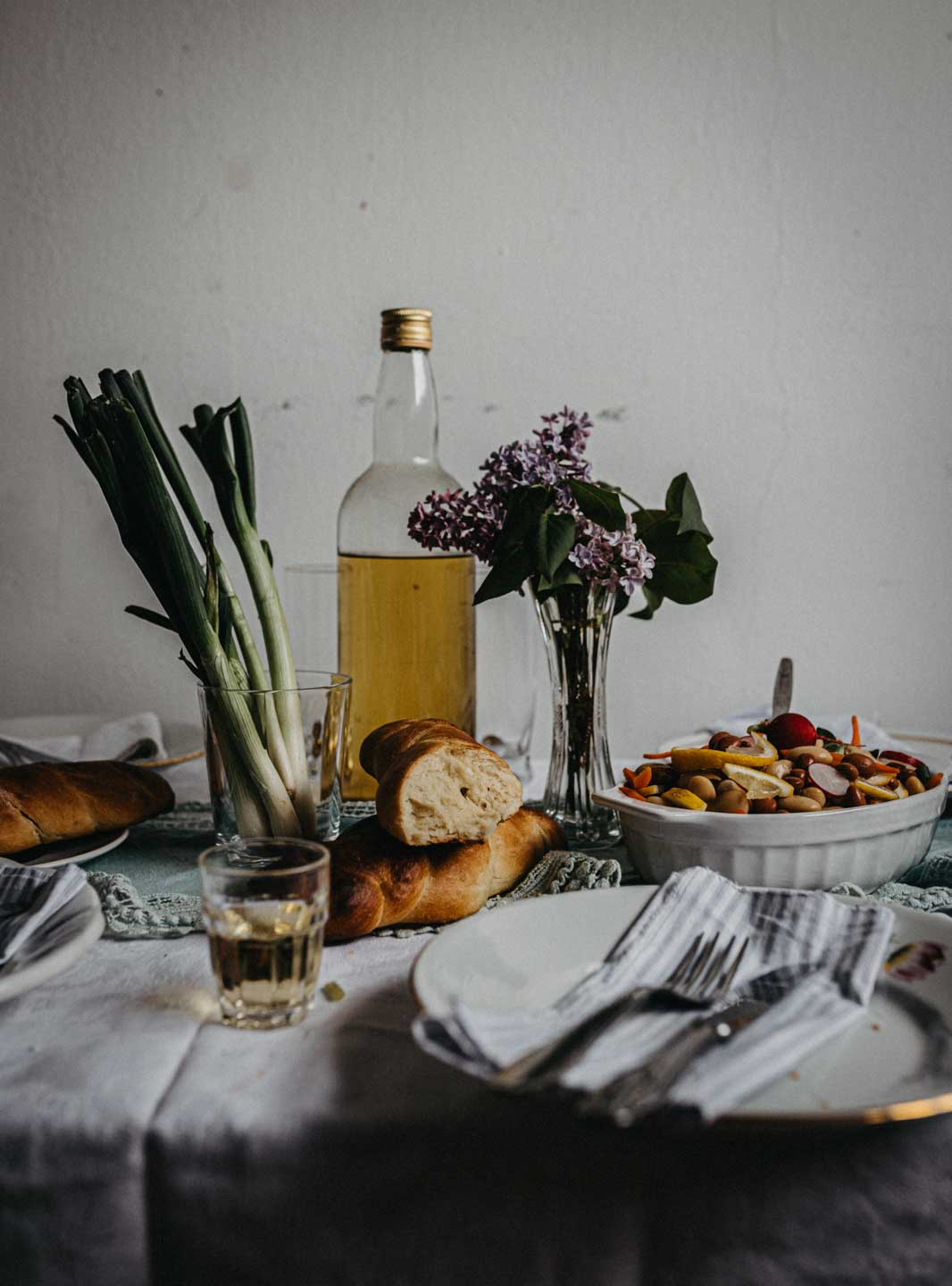 Wanna know what's that yellow bottle all about? Well, no recipe for that but surely I'll be placing it on our Easter table. This is Rakija. Every Balkan fellow will know what is it and you might know it by the German name Schnapps.

So, Rakija is a booze usually made from destilled grapes (Loza) or plums (Šljiva). When I was a kid and would fell and scraped my knees and elbows, my Grandma would damp a cloth with a little Rakija and disinfected it. I wasn't happy because I felt I smell very drunken and it stang like hell, but you cannot contradict Gradma. So I would go off riding that bike even faster so the wind evaporates it off of me.

Rakija is to be poured into small glasses (called štamplek, štamprlek, štampla, štampl, which surely comes from some badly twisted German word) and then down the throat with it! all at once. You don't sip it, OK? You raise glasses, say Cheers (Živjeli!), knock gently with it with another glasses by the table and bottoms up! Or, as we say here, na eks. From wherever that fraze came, but never mind that.

At this day and age and things happening, I think we all need a bit of disinfection both from the inside and the outside, a good cheer and glasses raised to our health, and down the throat with it. Agree?
OVERNIGHT BRAIDS
makes 4 braids

4 cups flour
1/2 teaspoon yeast
1 teaspoon salt
1 tablespoon sugar
2 cups tepid milk or water
1/4 cup oil

Mix everything for a few mins until smooth. Cover and leave overnight somewhere cool or in the fridge. Bring it back to the kitchen in the morning, leave to warm up a bit on the room temperature. Punch the dough down, take out on the floured surface. It will be soft but please don't add more flour than you need to. Divide the dough in 4 buns and then every bun in 3 pieces. Roll out each piece to get a string as long as your palm wide spread. Then make a braid. It doesn't have to be perfect, really. Make 4 braids, put them on the baking paper on baking sheet and leave to rise for another 30 – 40 mins. Ok, brush with some milk before that so they don't dry. Bake the braids for a good 20 mins or a bit more, until they are all nice golden and brown, a bit more brown than golden. Cool, serve, enjoy 🙂
*for regular baking, use 1 tablespoon yeast or 20g fresh yeast dissolved in milk and the dough will rise in an hour or less.

MIXED BEANS & VEGGIES SALAD
makes ca. 4 cups

Precook beans (it grows in volume ca. 3 times while cooking) or just drain and wash 2 big cans of different beans. Or whatever beans you have. Slice 1 medium onion finely or a nice bunch of spring onions. Julienne 1 medium carrot. Go on with other veggies you like, I had 2 handfulls of little red hooded radish. Oh, and lemon goes well too. Give it 2 or 3 splashes of olive oil or use pumpkin oil, but use less. A nice tablespoon or two of some quality vinegar, if you like it. Salt, pepper, maybe some garlic and herbs? Just go as you like it. I could have used some seeds too, like sesame, sunflower and pumpkin seeds but I forgot. Toss nicely, sprinkle with love and enjoy!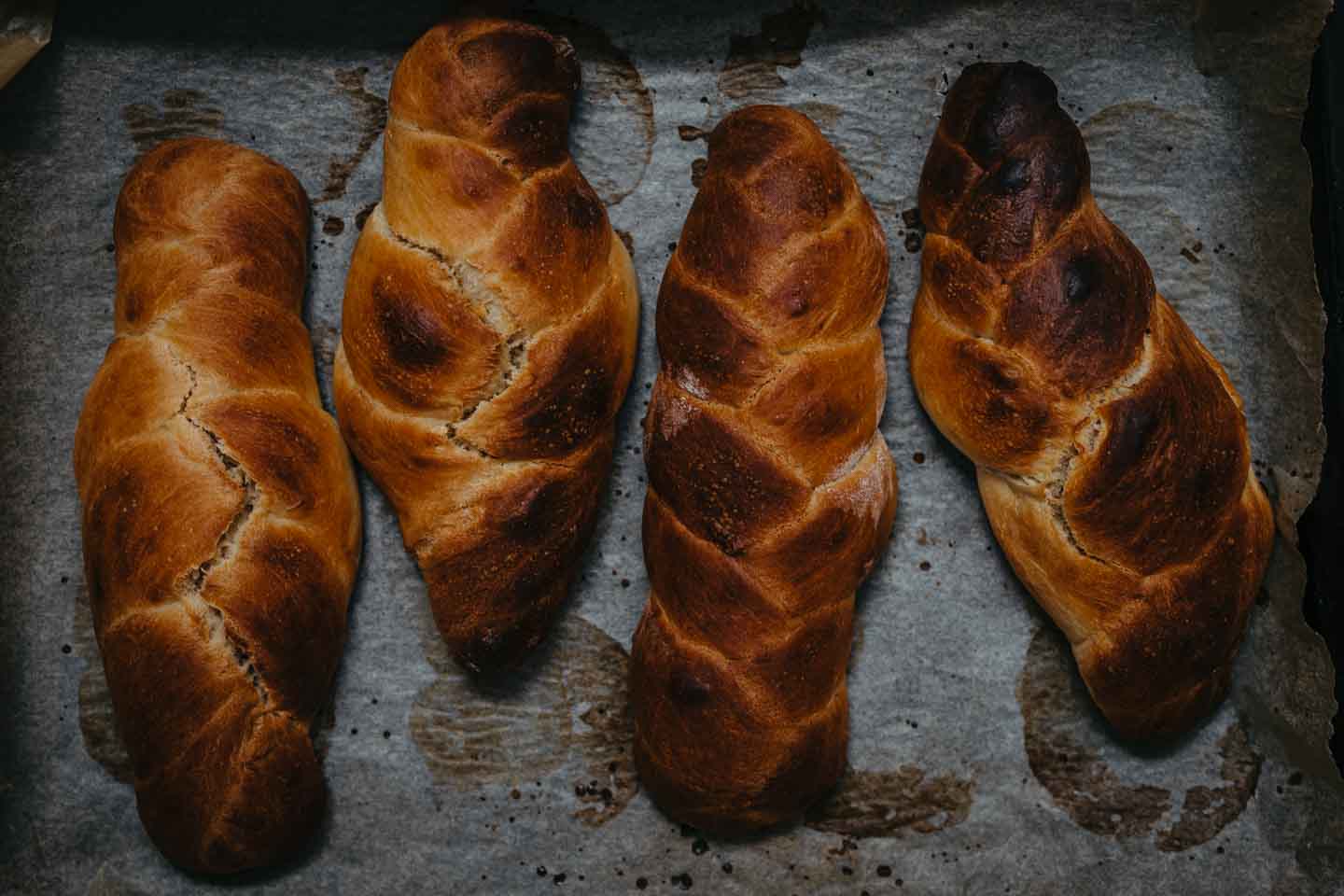 WHAT ABOUT THAT TABLESETUP, YOU SAY?

I never planned it to be that way back in the February… I had something Zero waste – like in mind, hence a similar post here. I never liked fussing with festive decorations… spending money (these things cost!!), then finding some place for it to live. Then when holiday fuss is over, store it somewhere until the nest year? Now I sound so Grinchy. Which I am not. I do cook and bake holiday – wise!

Also, every year (but not this one, obviously) I get really overwhelmed with (pre)holiday music, loads of (cheap plastic or something else that will most probably end up in garbage) decorations everywhere, everywhere! And I go like, where do you people keep all of that?! And why, why?! OK, I am decorational Grinch. But I just think of all that straws, chicken, eggs, hats, wands, rabbits, roosters, nests, holders, placers, whatever-ers?! and where will it all end once the holiday is over.

Just to be clear, I do love decorating, but decent, subtle, with sustainable decorations, ones that you can have for years, ones that don't scream or shine… I'll stop now, haha! But you get my point. I love decorations that speak seasons. I don't love decorations that break to many branches, cut trees, fill landfills. I like flowers and herbs in the pot, beautiful stones, pine cones, pumpkins.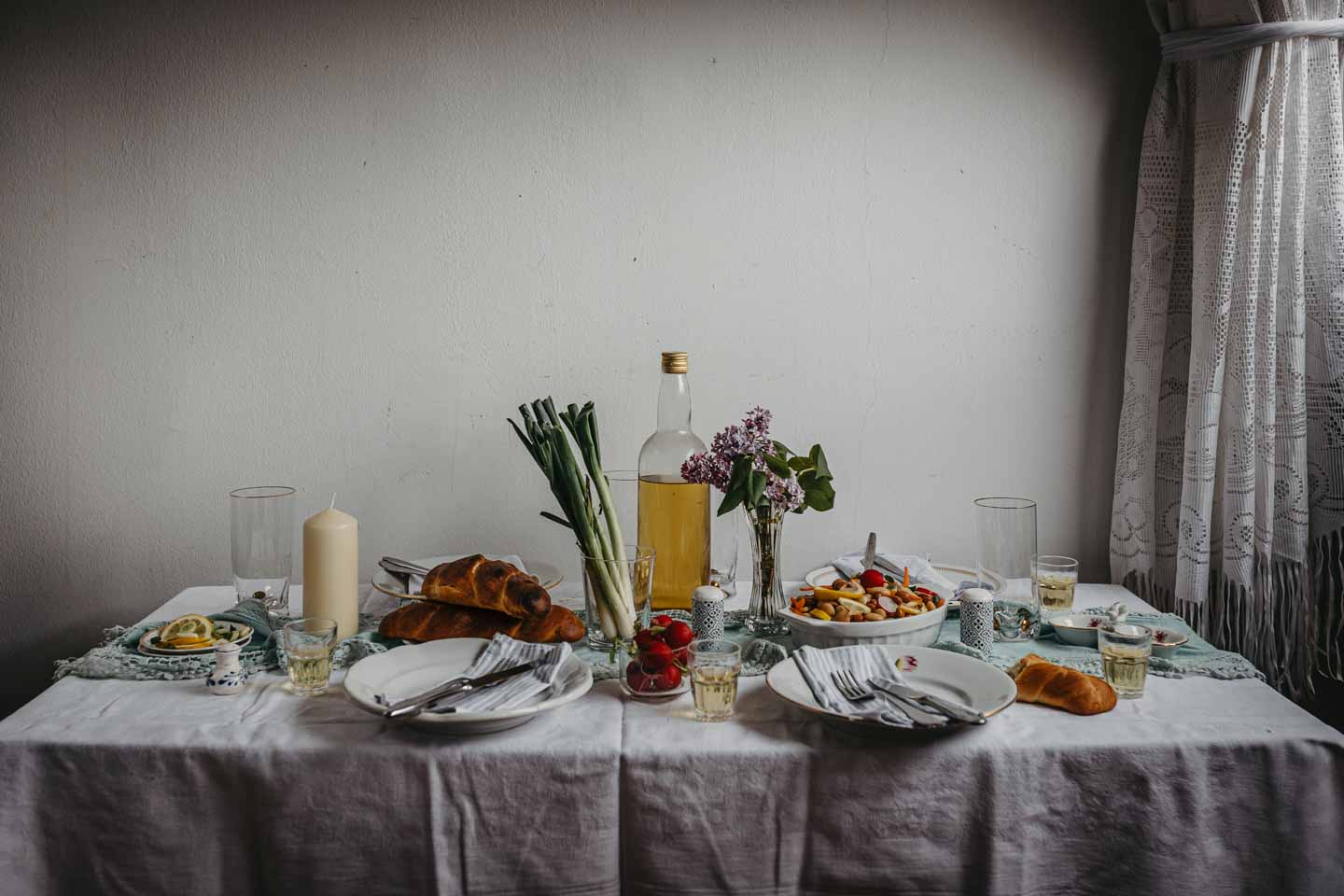 So this year, for this Easter, I had pretty much none of those. First, for the obvious reason, we don't go out and are using what we already have. Which is pretty much nothing, considering my Grinchness. Other thing that will my Balkan peeps understand, is lack of ANY decorations that would speak Easter. Pinterest offered thousands of beautiful table decors but most of them are suitable for meals that are served to people by other people. And when we gather, we put courses of meal in order, eat, remove them, bring new. Get my point? There is food on the table and people take it themselves. Festive dishes speak which holiday it is.

So where would I put that centerpiece, anyway? On this table, the centerpiece is – food. Or maybe, that bottle of Rakija is, I have to be fair. Well, it won't be on the table during the whole meal. Only when we sit down, pour it down and then enjoy the food and Easter as we have it.

With not that much. Yes, I had better tablecloths but I chose my Mom's old one, to remind me of her and Dad as we won't be together this year. I took Grandma's old plates, they don't match in colour but in my heart. This blue thing flowing across the table is my old scarf, love the colour! And the napkins I made myself. One with embroidery is made by my Mother in law almost 70 years ago.

The thinnest, guilded rimm glasses that don't match rustich Grandma's plates at all but to give us a little glam and shine too.

We are alive, together, have roof over our heads and food on our tables. Let's cherish that.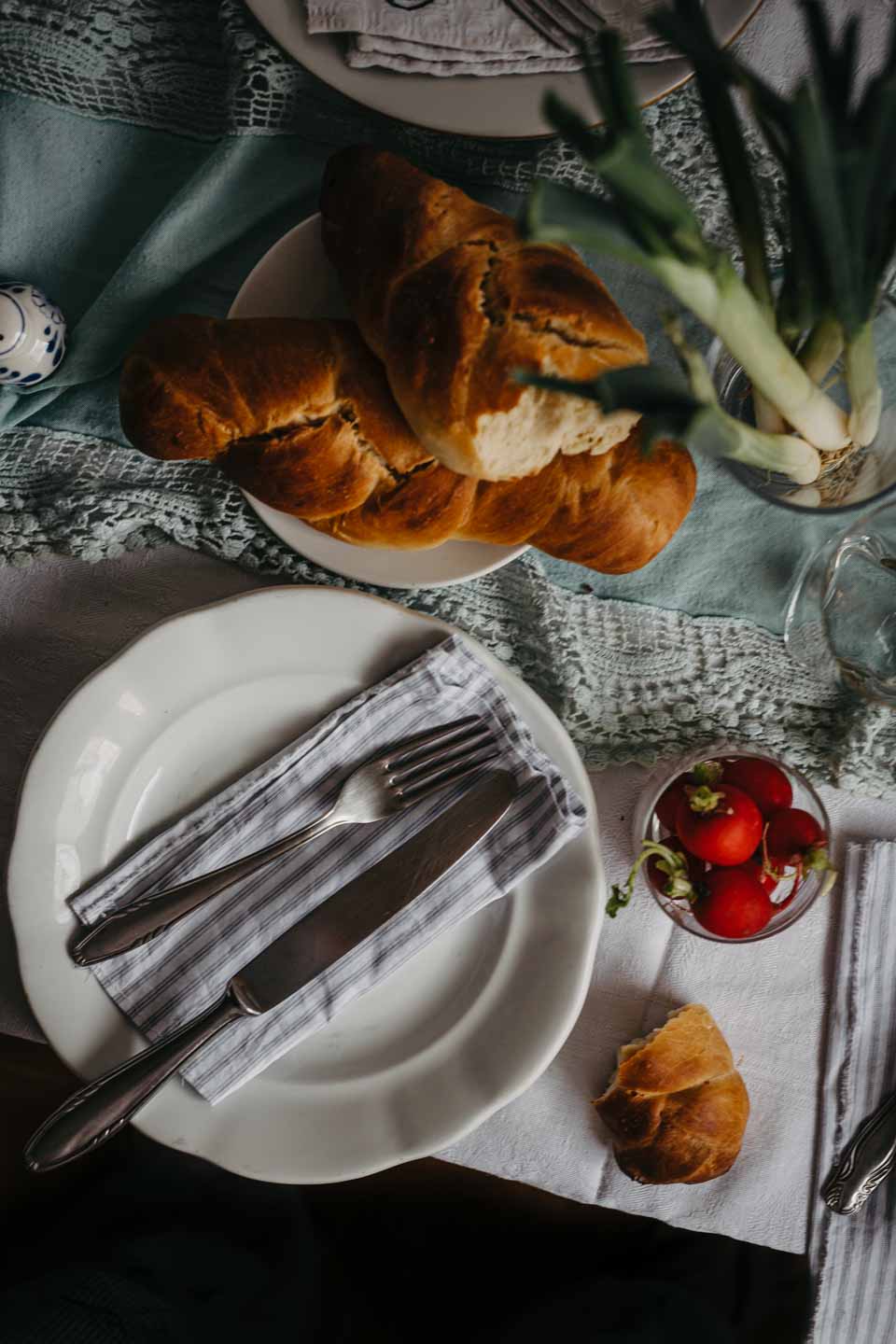 ---
You might also like
---
---