Simple, nutritious and ever so full of tastes and textures: Kimchi Rice Stir Fry can be made in a minute both for your festive and everyday table.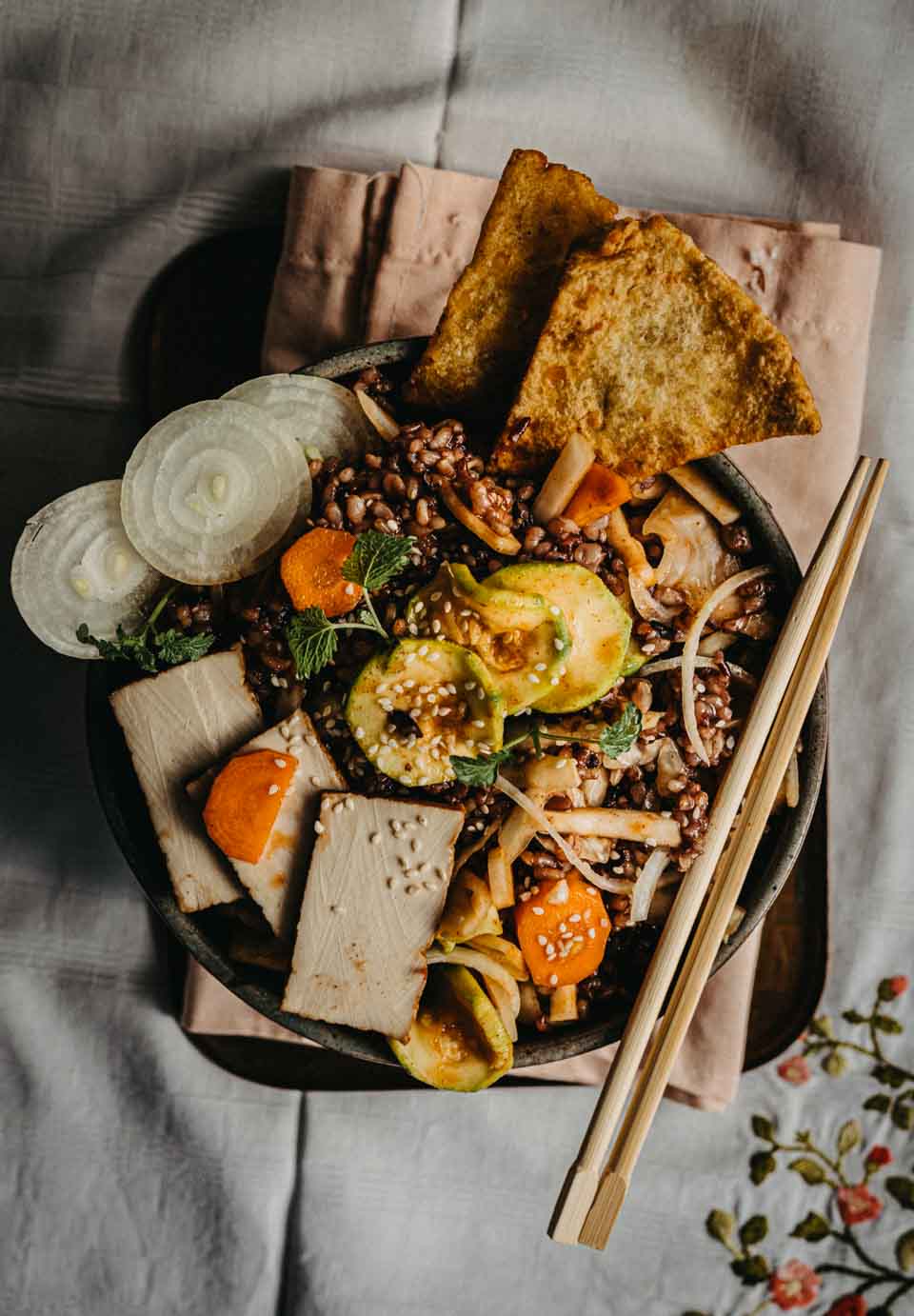 When I met my husband, he was vegetarian and I wasn't even close. When he moved in I was like, whatonearth!? will I cook for you? Not because I never ate or cooked veggies. I thought I didn't know how to cook without meat. Well, of course I KNEW how to cook veggie dishes. Even more, I've had a good handful from my Grannie's arsenal of inventive cooking! Which is a story for another post but still. I was all… veggiedumb all right!

In my defence: whenever I would open the fridge, there always seemed to be some kale or cauliflower head staring my way and for the life of me I never got to like those two. So I thought, if this is vegetarian life, I'm doomed.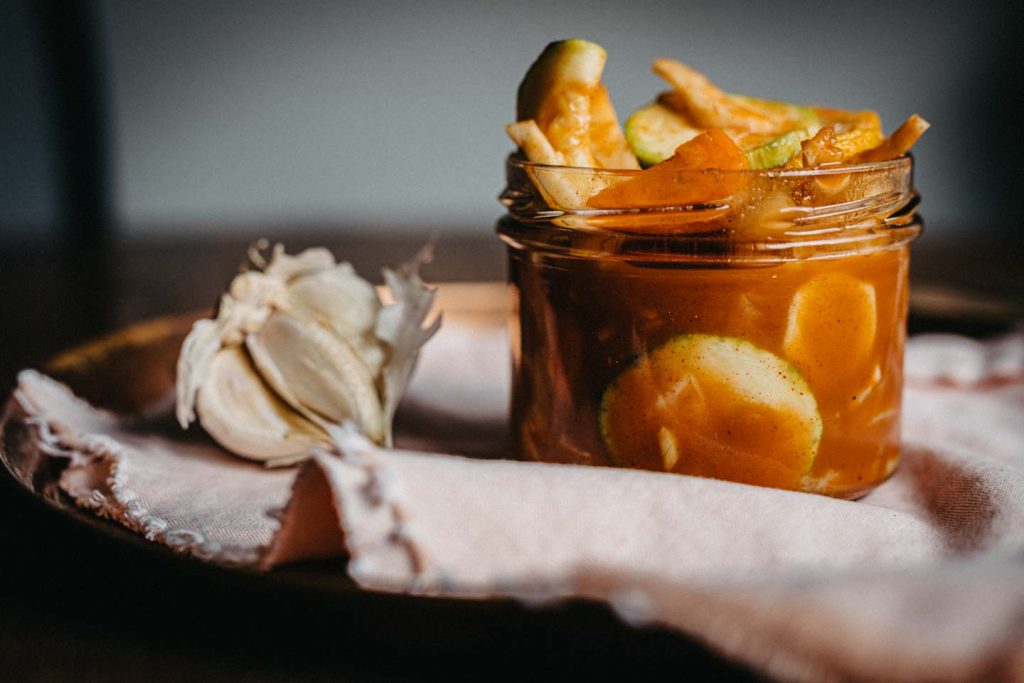 But, he was nice and would ate politely whatever I cooked and never preached or complained about too thick of a carrot wheels or the fact that I'm blatantly ignoring those kale heads.

When I found Maangchi I started cooking the "Korean way". Utilizing so many veggies was so fun and yummy! After I discovered Kimchi (from my previous post) the next logical step was to make Kimchi Bokkeumbap which means, Kimchi stir fried rice.

Lentil wedges were added later by some zealous vegan food photographer (which we won't name here) named Mari who wanted to add some protein to it. OK, there is tofu which is enough protein all right and you don't need both. I've had some leftover wedge dough so I made it too. It's a rare occasion for me to have tofu because it's expensive here.

Both of these dishes are our kitchen staples and go to meals whenever we are in need of something quick, satisfying and nutritious.

Wedges are lentil burgers veganised, flattened and cut in triangles. Found at Martha Stewart Clean Eating, Shira Bocar YT video.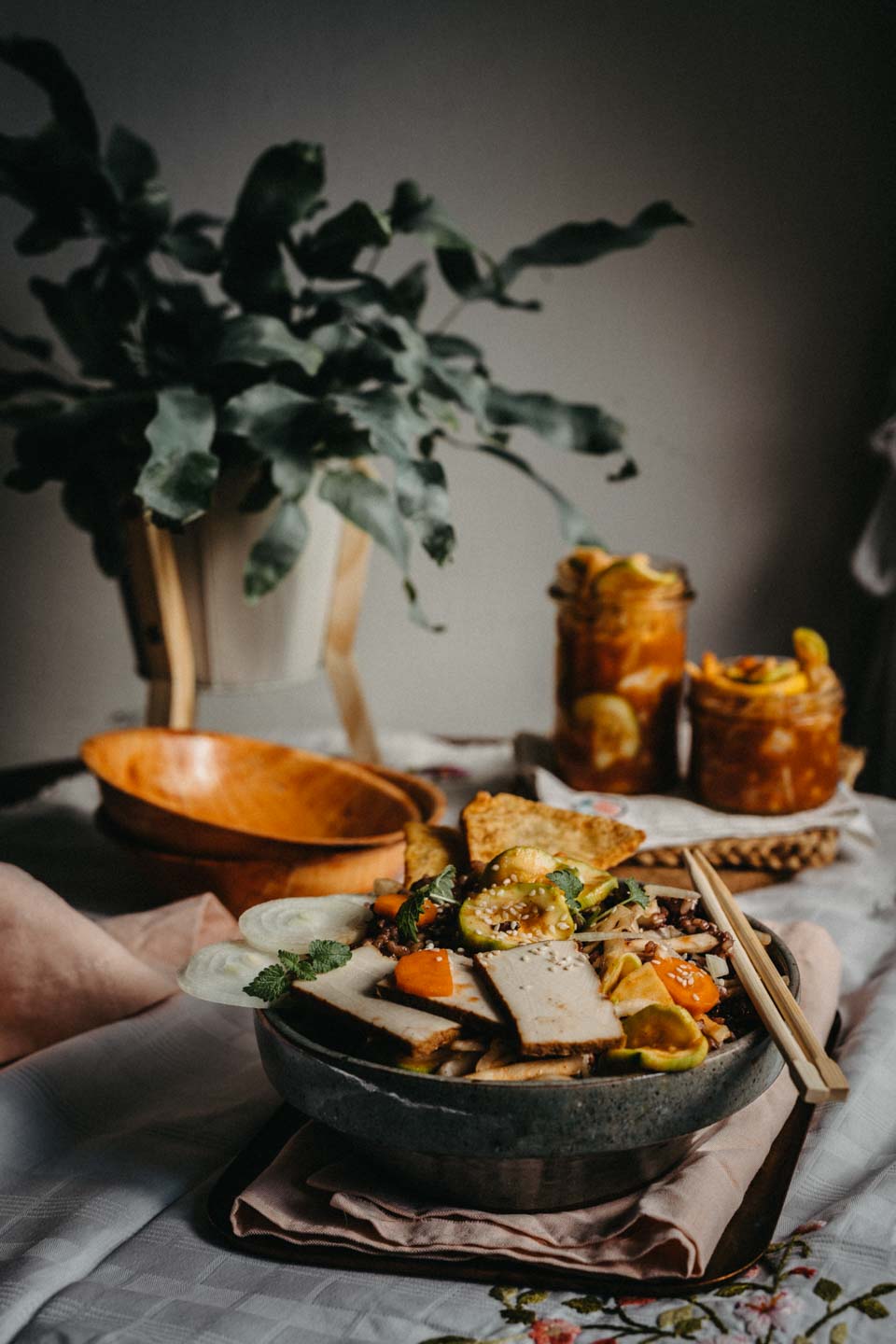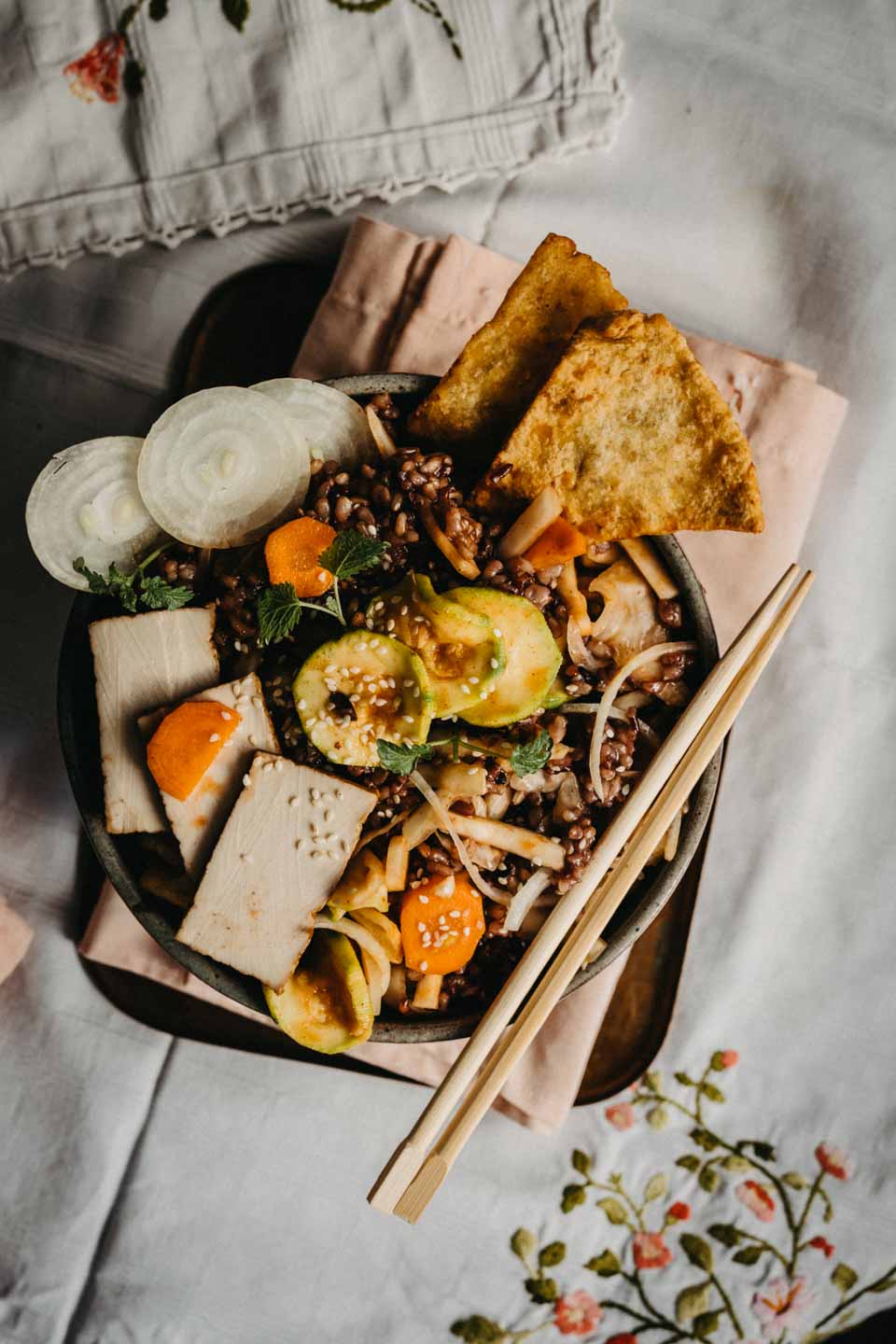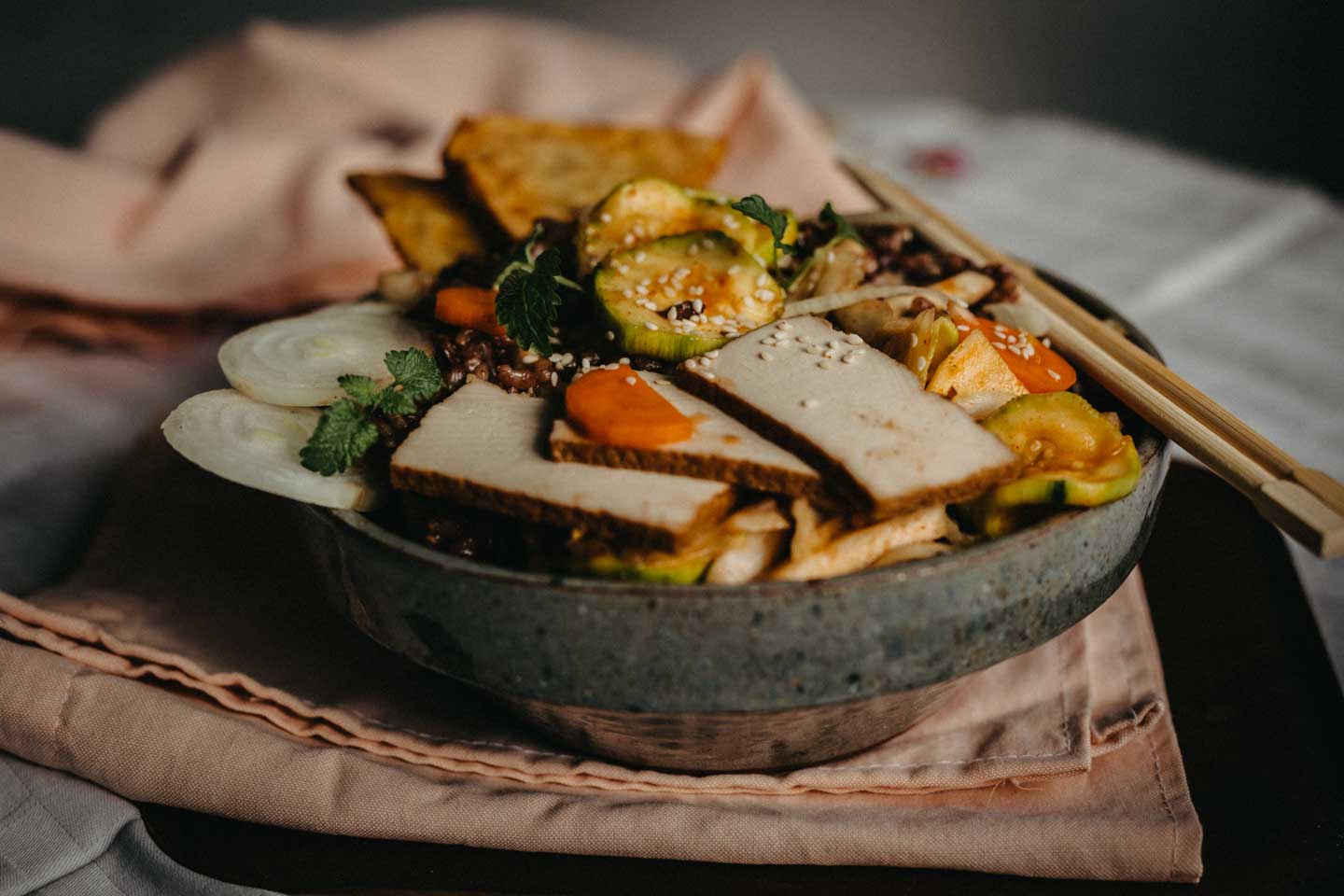 KIMCHI RICE STIR FRY WITH LENTIL WEDGES
serves 2 – 3
from Maangchi YT Channel

*1 cup – 240 ml

1 cup Kimchi (or more, I like it juicy)
3 cups cooked rice (I had a mix of different rice grains, hence it's dark)
1/2 cup Kimchi juice
1/4 cup water
1 onion, sliced
sesame seeds, roasted
oil
sea weed sheet (optional)

Heat the oil in the pan, add Kimchi, cook and stir for a minute. Add rice, Kimchi juice and water and cook and stir for 5 – 7 mins. Add sliced onion, sesame seeds and shreded sea weed sheet. Serve hot.

LENTIL WEDGES
ca. 16 pieces
from Martha Stewart

100 g/ ca. 1/2 cup red lentils
1 small onion, sliced finely
2 tablespoon chia seeds soaked in 7 tablespoons water
85g/ ca. 1/2 cup bread crumbs
1/2 teaspoon salt (or a little more, taste it!)
2 tablespoons chopped fresh herbs (parsley, etc.)
oil for frying

Wash lentils thoroughly, drain. Cook for ca. 12 mins or till tender but not mushy. Drain well, set aside to cool.
Combine everything in the bowl, make ca. 12 balls. You can flatten them and make patties, like burgers or, like me, on a floured surface, roll out a thinner circle, cut out in triangle and fry on well heated oil. Patties should be done in 3 – 4 mins on each side and wedges take less time because they are thinner. Serve immediately. Bon appetit!
---
You might also like
---
---