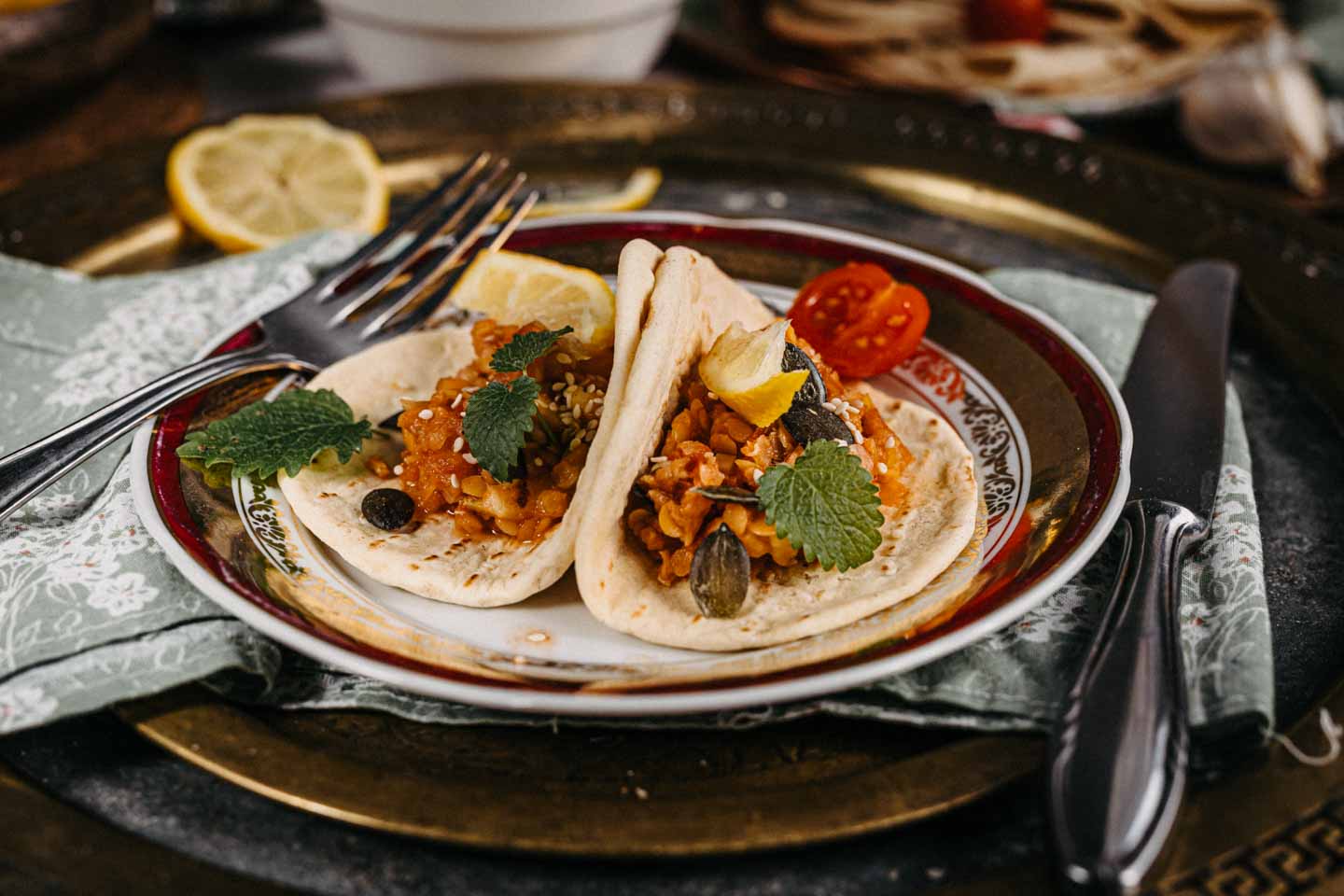 Soft tomatoes, lentils that melt softly, spiky lemon drops, crunchy seeds, all dressed up in crimson juice, landing gently on the soft flatbread… make a poetry of your lunch today! Using just a few pantry staples, really…
I can't just not do anything. Yes, I'm staying home and safe but since I'm really the person who'd rather create (a mess) than fold and iron underwear, I do what I do every day anyway, and that is cooking and taking photos.

Which is a good thing, I presume… I have read somewhere that you are at the right job if, when asked what would you do if presented with endless milions of whatever richness, you say you'd continue doing what you've been doing so far. Which I do, as it seems. Whilst I have not (yet) been presented with that sack of money but "stay at home and stay healthy" constrictions, I continue to create.

Because I cannot just not do anything and I can lipsinc all Endeavour seasons.

So!
This has been our today's lunch. As it comes: simple and easy flatbread made with baking powder, not yeast. Lumpy bumpy lentil, seeds and veggies spread that didn't end up being a paté because it kind of tastes better when it's all in chunks and lumps and you can recognize ingredients and let everyone develop its own beautiful moments of taste in your mouth, all in its own time and texture… you know the feeling, right? Soft tomatoes, lentils that melt softly, spiky lemon drops, crunchy seeds, all dressed up in crimson juice, landing gently on the soft flatbread.

Yes, I'm all poetry today.

You'd be too, if you ate this today. And Teddy Swims playlist certainly helps 🙂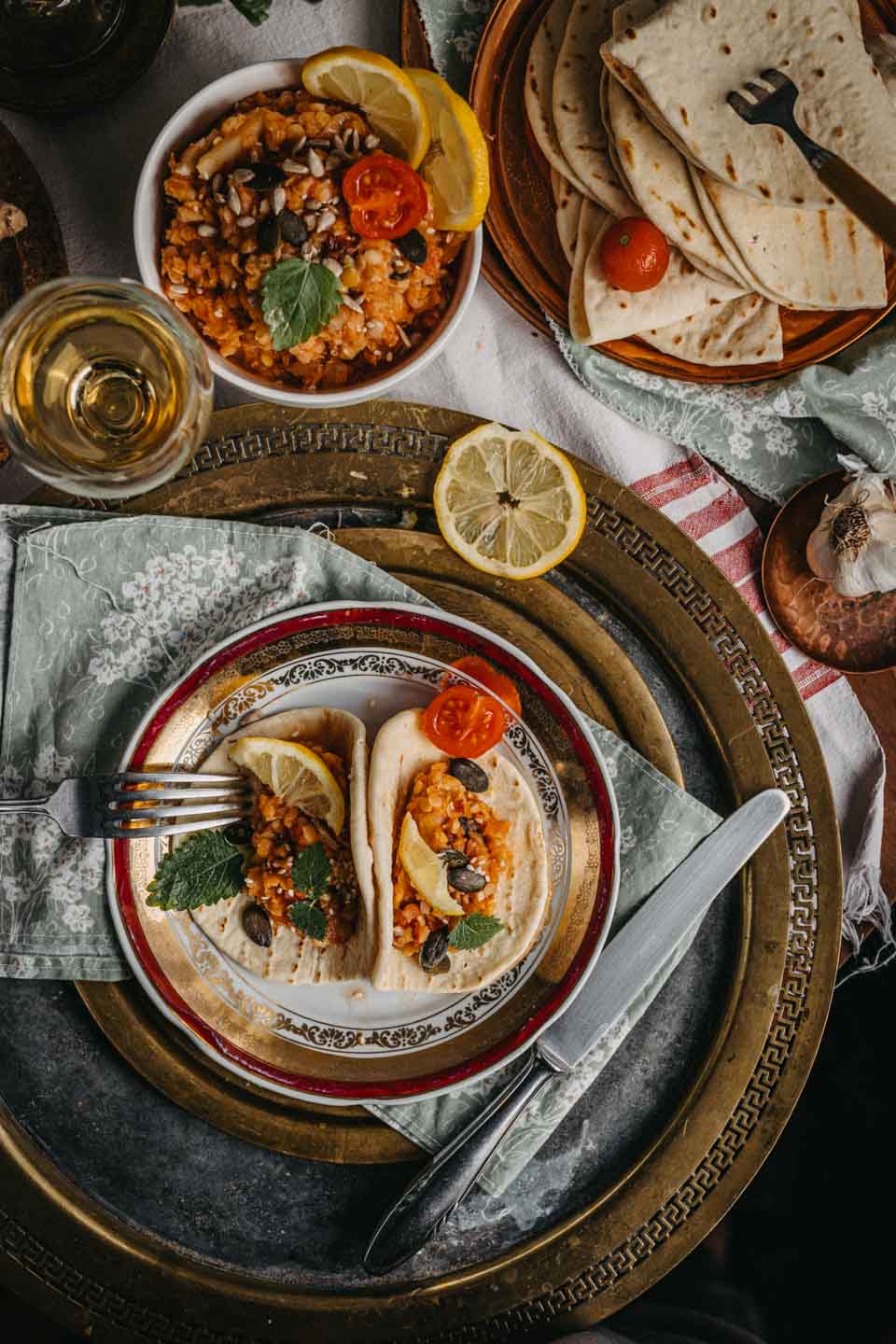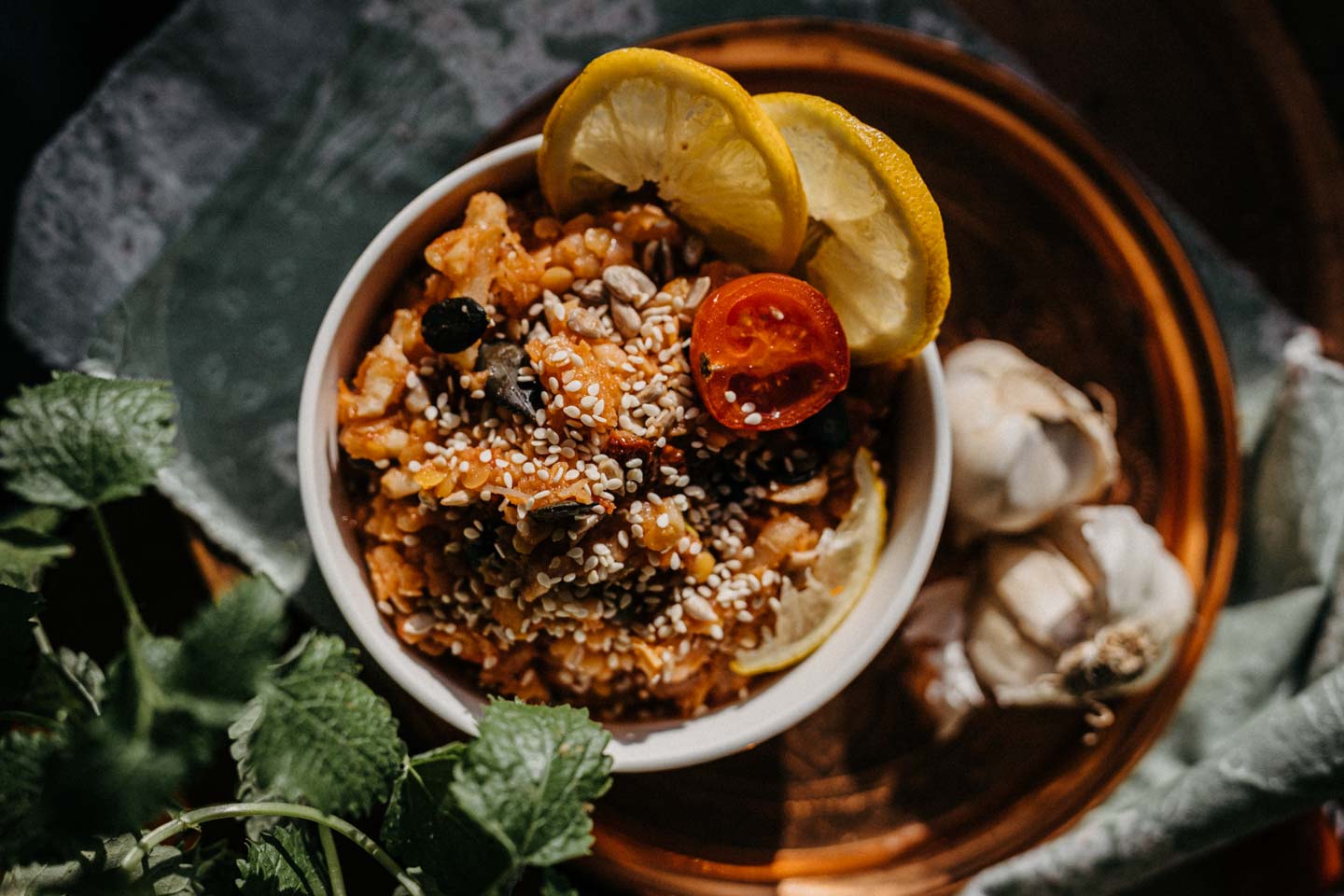 RED LENTIL, TOMATO, SEEDS AND VEGGIES SPREAD AND FLATBREAD
FLATBREAD

4 cups flour (1cup equals 240ml in volume)
1 sachet of baking powder (12g, 1 tablespoon)
2 cups water
1/4 cup oil
1 tsp salt

Make a nice, soft and pliable but not a sticky dough. Knead it until it's all smooth and with no lumps. Leave covered to rest for at least 30 mins (or overnight). Heat a (the larger the better) non stick pan or an iron skillet. On a slightlty floured surface roll out a piece of a walnut size dough (or larger, if you want) very thin. Put it in the pan, you'll see bubbles rising. Give it a short min and flip over – there should be brown specks or lines (if you have a grill pan) and cook a short min more. Take the flatbread out of the pan, put it on the plate, sprinkle with few drops of water, put the plate in the plastic bag and a kitchen towel over it so it condenses and become softer.

RED LENTIL, VEGGIES AND SEEDS SPREAD

*quantities are really up to your own liking and pantry conditions – just use what you have and adjust the taste and thickness as you go, and you cannot go wrong, really.

ca. 3 cups of red lentils, cooked
ca. 2 cups root veggies, cooked
2 onions or shallots
2 – 3 pieces of sundried tomatoes
pumpkin, sesame, sunflower seeds
ca 1.5 cups of canned tomatoes
oil
few garlic cloves, sliced thinly
tablespoon or two (or more, if you are into it) of fresh ginger, diced really small
salt, peper, lemon juice, other seasonings
fresh herbs for garnishing

Red lentils cook quick and kind of grow in volume when cooked but not quite in double. Just rinse it well under the running water and then some more in the pot you are cooking it in, water will be milky, so scrubity scrub you go. Cover the lentils with water and cook for 10 – 13 mins, add water if needed. Strain and drain well, let cool.
Use veggies you have at hand and take ca. 3 nice handfuls of julienned carrots, parsleys, kohlrabi, parsnip, cellery root, etc. Also, take one little onion or a shallot, cut it in half and char it over an open flame till it browns nicely. Or skip that if you don't like or can't have it, but it gives a nice, deep flavour. Put those onions and veggies in the pot, cover with water and cook on medium heat until soft but not overcooked, you don't want a mush. Strain the veggies and save that delicious veggie stock for later.
Take that other onion, slice it thinly, cook on some oil till it caramelizes, add sundried tomatoes, garlic and ginger and cook a min or two.

Take a bowl and put veggies, onions from the pan, lentils and everything else and mix gently. Try, add the seasonings to your taste, make it as spicy and spiky as you like, fill the flatbread with it, pair with a nice glass of wine or beer and enjoy the veggie love!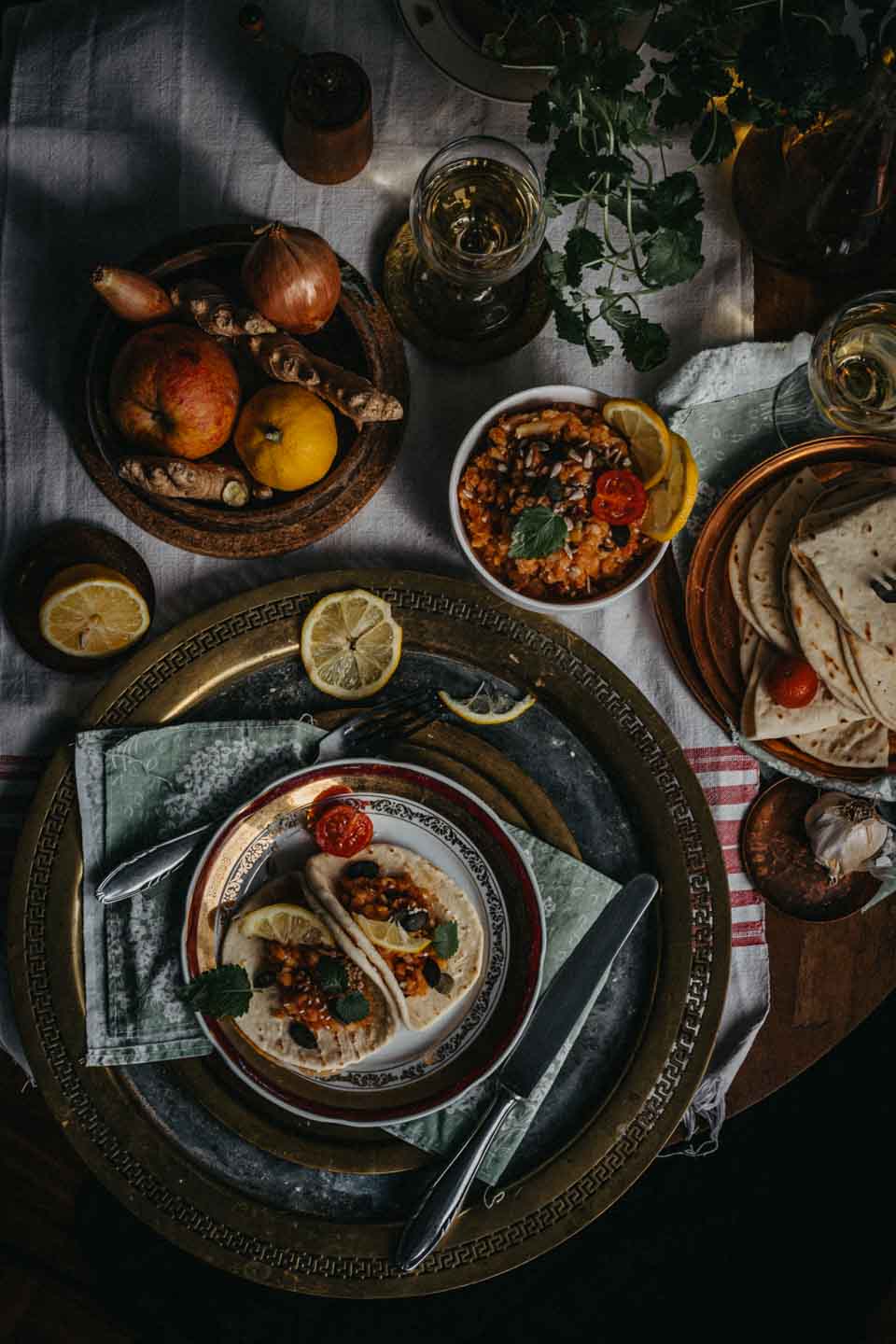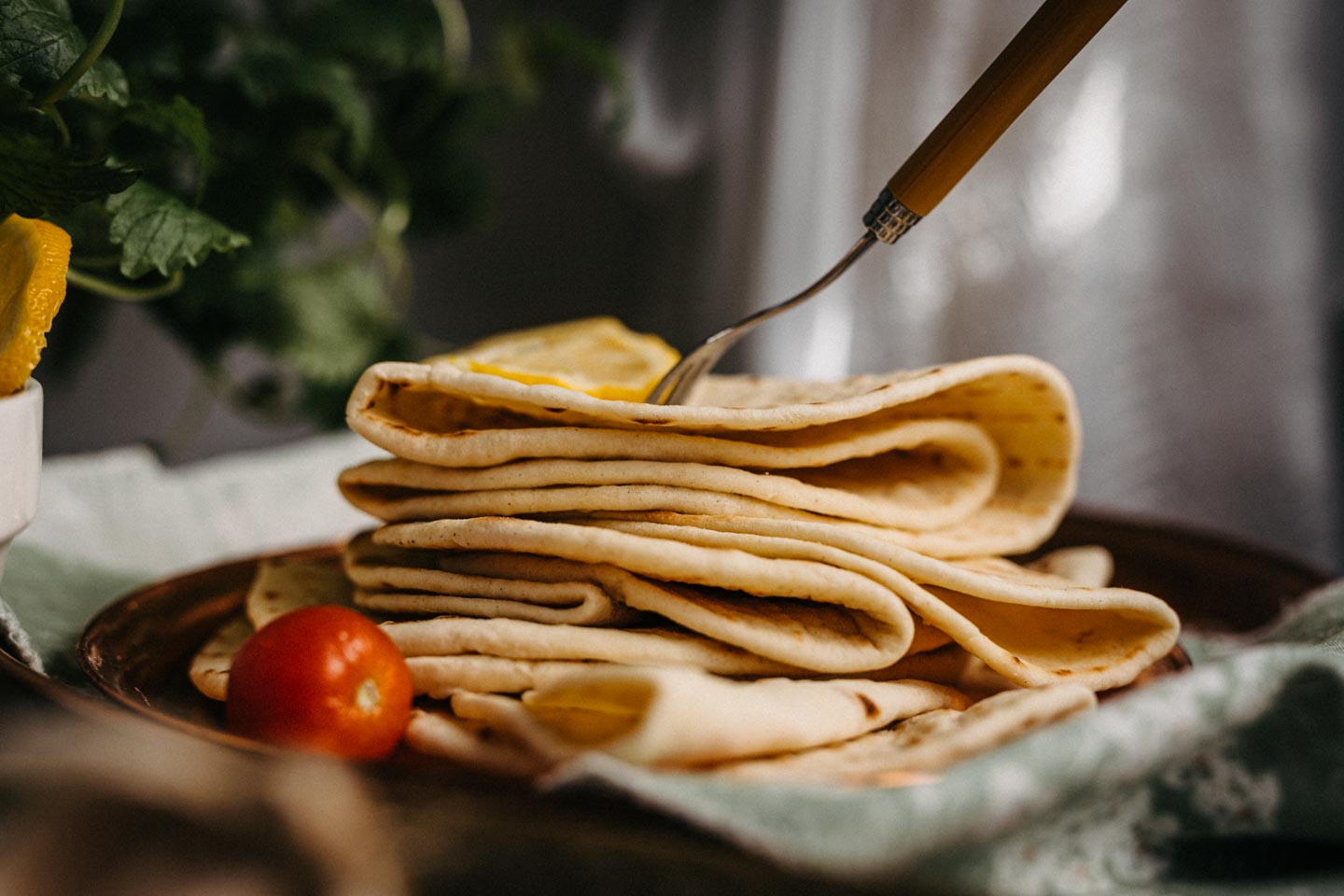 ---
You might also like
---
---