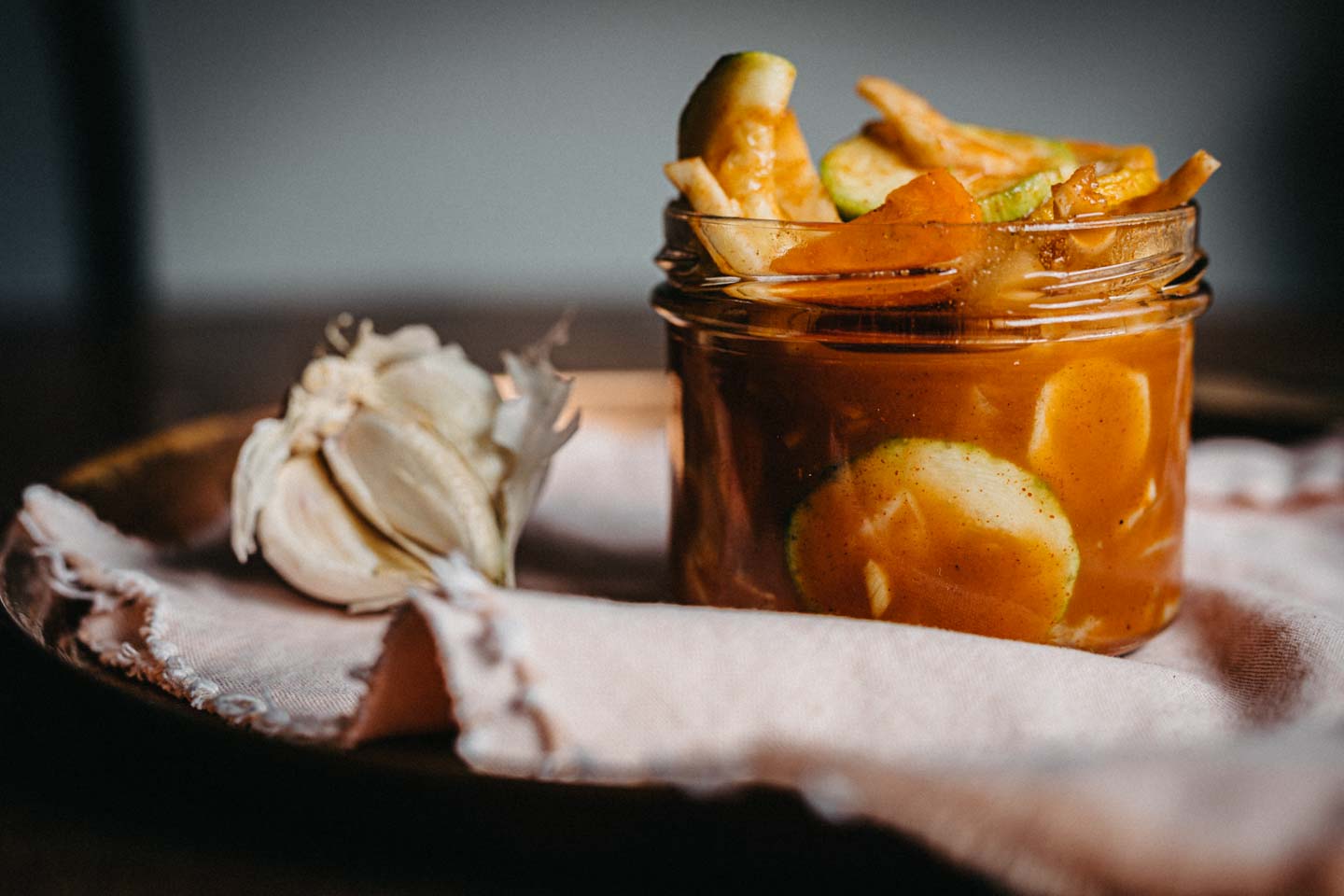 Fermented Korean gift from heaven, aka Kimchi – the tastiest and the most versatile way to make your own probiotic rich food. In stir fries, pancakes, stews, just to name a few combos for a nutritious, easy and tasty meal!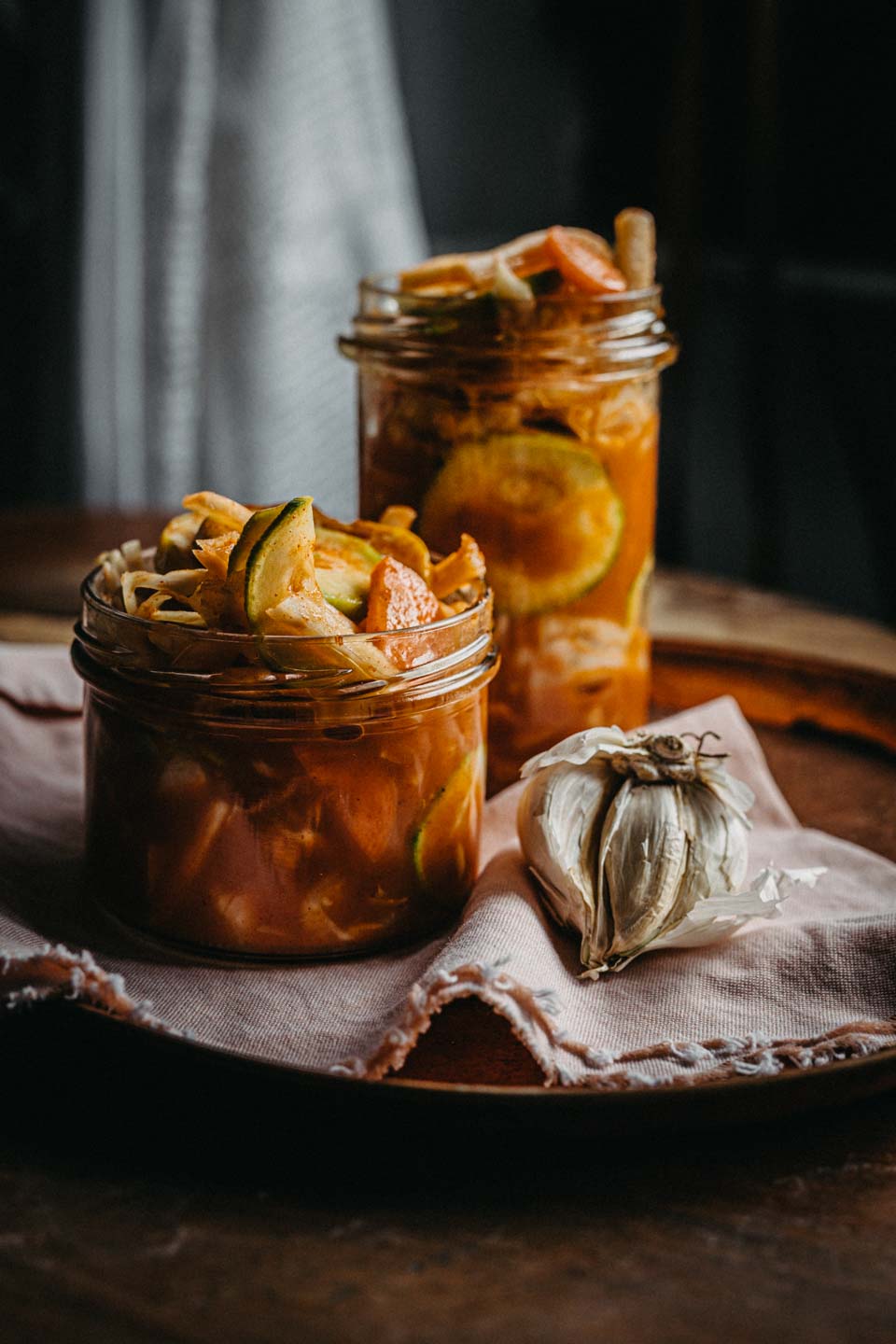 See that piece of lemon at the top of the jar? It was dropped in the Kimchi bowl by my kids who thought that few lemon slices would pair nicely with cabbage (not that it wouldn't, right?) so it ended up on my photo. And when I saw it, it was too late. And I was lazy to Photoshop it out, it kinda looks cute there 😉

So, #justsaying! So you don't think that it's on the recipe list. Furthermore, Kimchi does not need citruses nor vinegar to ferment. Kids need something to do while being inside all day every day, due to youknowhat. Sometimes they do stuff behind my back so I'll say I'm happy they are interested in cooking and even happier that I didn't find any Lego's in Kimchi. Akhem.

My first encounter with Kimchi was at Maangchi YT channel. Gotta love that woman! Her recipes are straightforward and simple and in plethora of vegetarian recipes there is so many of them that can easily be veganised. Also, she offers substitutions whenever possible.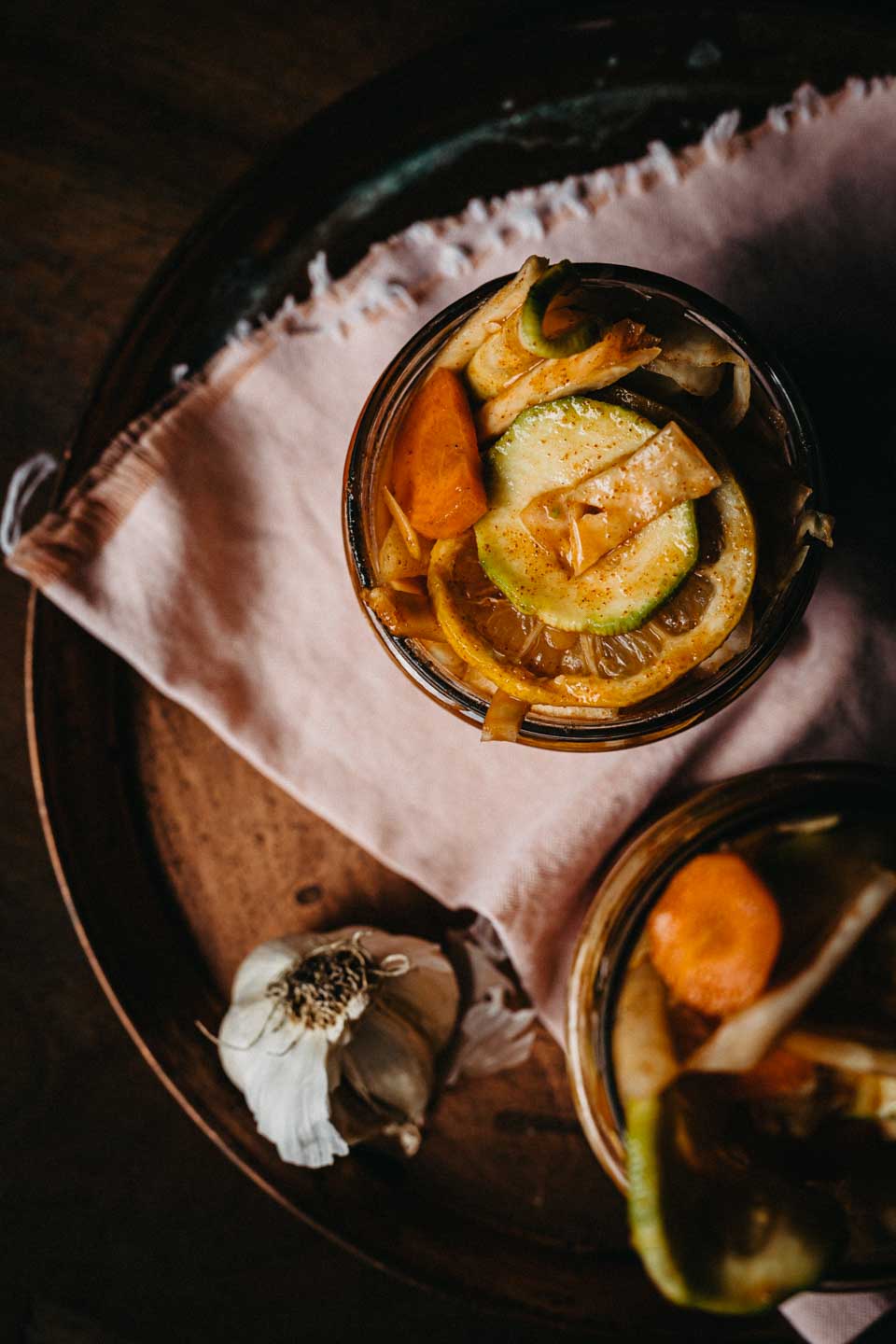 Benefits of Kimchi are endless and I won't go into it now – but one of his greatest features are probiotics that do our gut so much good. I never was a fan of hot and spicy food so when I first made it in all of its spicy glory of hot pepper flakes, I thought I'll burn inside. But, I didn't. To my surprise, my tummy felt like I ate the most angelic, mild and soothing something that angels cooked. So I shrugged my shoulders and said, OK, this one's a keeper!

Whenever I find a nice napa cabbage or any cabbage head that smiles kinda Kimchastic to me, I make Kimchi. I don't make big batches because we like it the most while it's still crunchy and not too fermented.

Stews, pancakes, salads – Kimchi is the most versatile invention I was introduced to, in years! So here's the simple, vegan version of it, so you can make and enjoy it yourself. See that photo downthere? It's a Kimchi Stir Fry I shot and you can read about it here.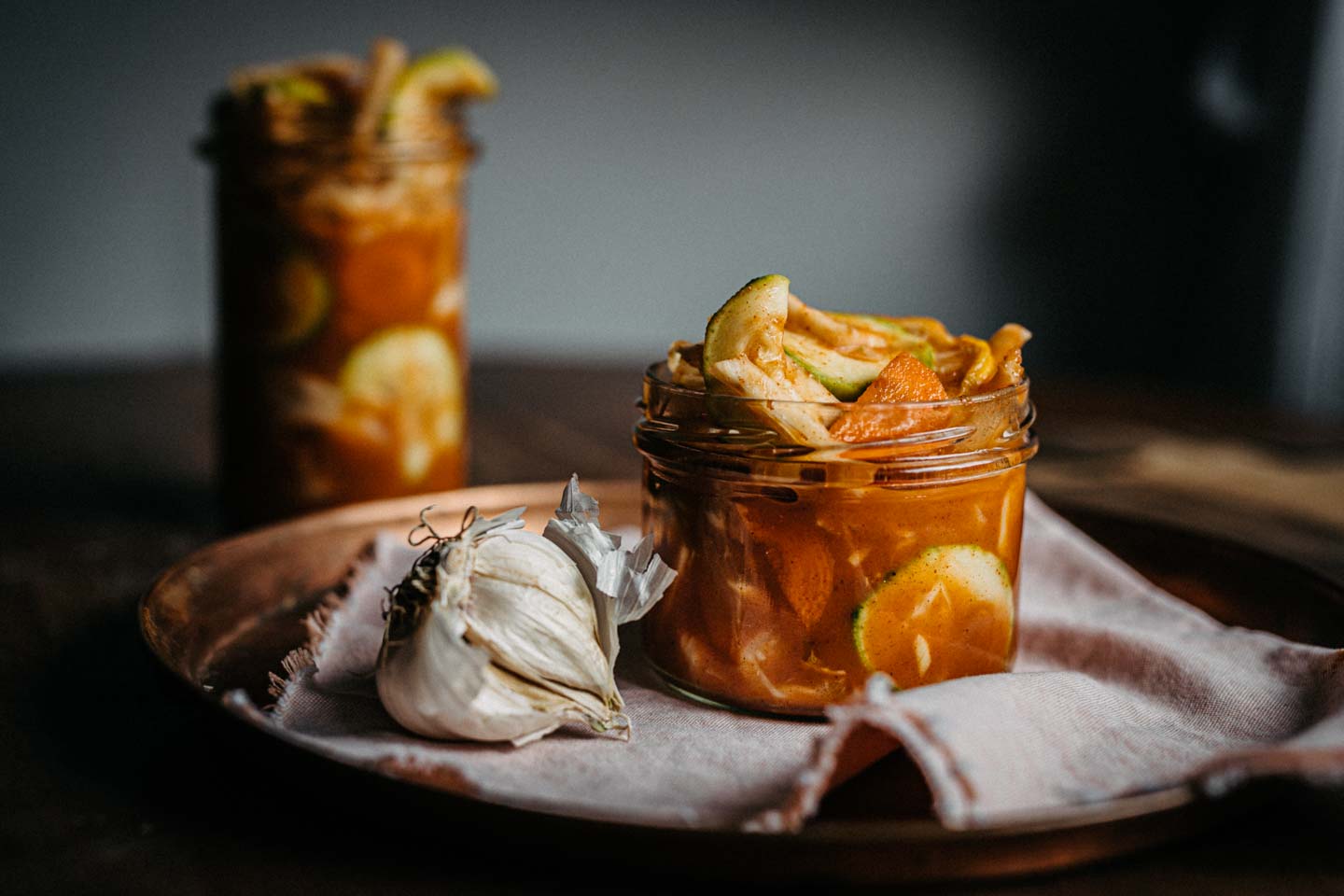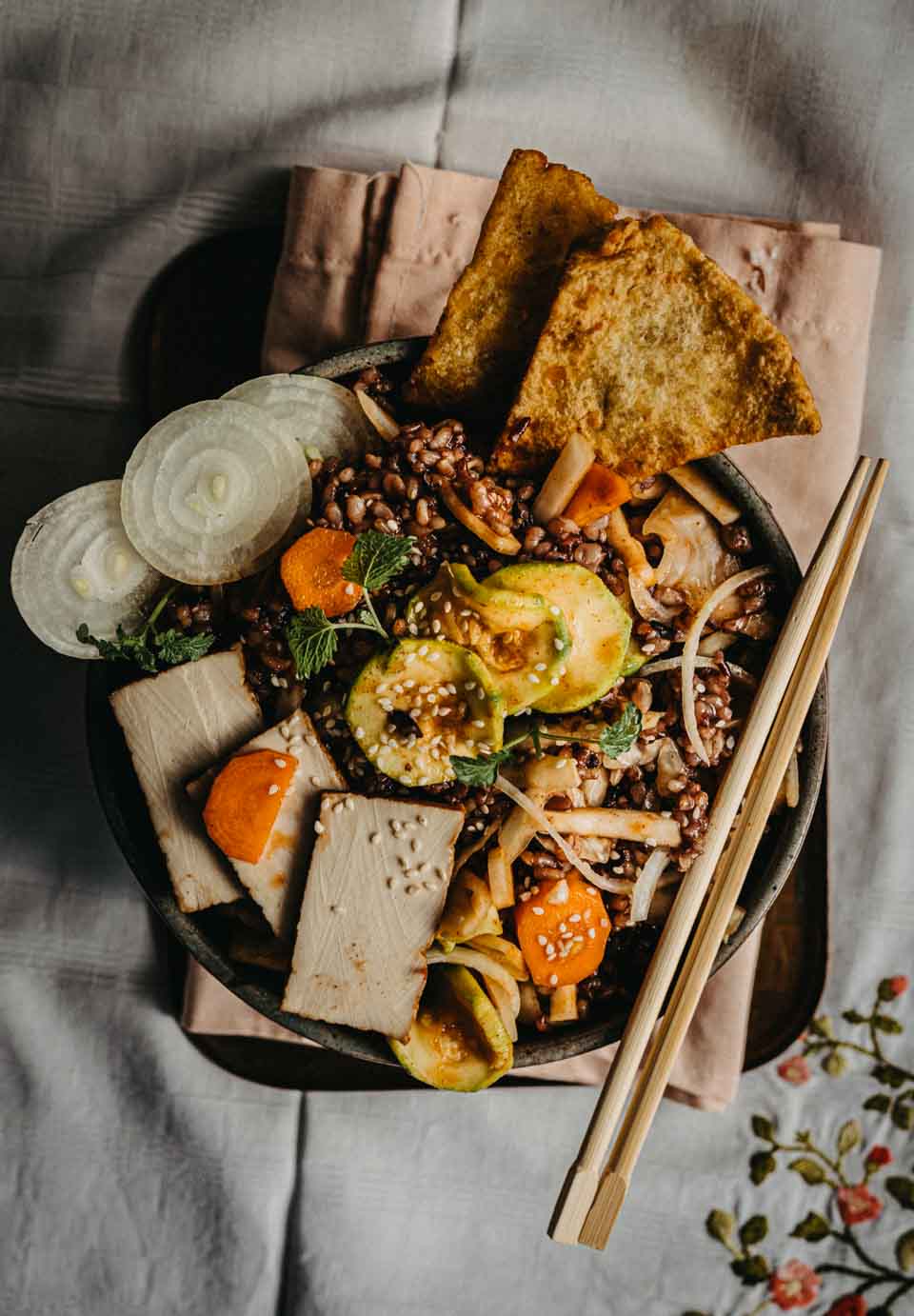 EASY VEGAN KIMCHI

1 small head of napa or any other cabbage, ca. 1 kg/2 pounds
few carrots, zuchinis, parsley roots or similar veggies to your liking
1 onion and/or handful of spring onions, sliced
few cloves of garlic, sliced finely
2 tbsp fresh ginger, diced finely
salt

Porridge
1 tbsp hot pepper flakes (or more, try it!)
240ml/ 1/2 cup soy sauce
1 1/4 cup water
2 tbsp rice flour (or any flour, if you don't have rice flour)
1 tbsp sugar (optional)

Veggies: cut the cabbage in small pieces or just shred it in a food processor, but don't overdo it – you need stripes of cabbage, not a mush. Julienne the carrots and other veggies – or if you are not into julienning stuff, just cut eveything nicely slicely. Put veggies in a large bowl, and I mean, the largest you have, because you'll be tossing and turning and you don't want stuff falling out.
Take 1 tsp of salt and add to the veggies, toss to combine nicely. Set aside to rest (cabbage will "sweat" a little and that's fine).

If you don't like your onions, garlic and ginger in chunks and slices, you can blend it all and add to the porridge once it's cooked.

Make the porridge: combine all the ingredients in a medium sized pan, stir well to dissolve, cook on low heat until it bubbles and becomes creamy. Try it out – you may add more sugar or hot pepper flakes – so you are sure that the flour is cooked.

Pour the porridge over the veggies, stir gently but thoroughly, watching not to smudge yourself. Then take clean jars and fill them with Kimchi up to 3/4 of the volume. Kimchi will ferment and needs some air and if you stuff it to the brim, it will fizz and leak out. Over your fridge. You don't want that.

Keep your Kimchi in the fridge, it slows down the fermentation process. After a week, it will be well on it's way to fermenting nicely. Kimchi cannot go bad but it can explode out of your jar when you open it so DON'T seal the jar tight. Leave it some air to breathe! In time it will be more and more fermented which you may find more or less apetizing but it's still fine. More fermented means stronger sour scent and taste. So if you don't like that, don't make large batches you are not sure you'll use up.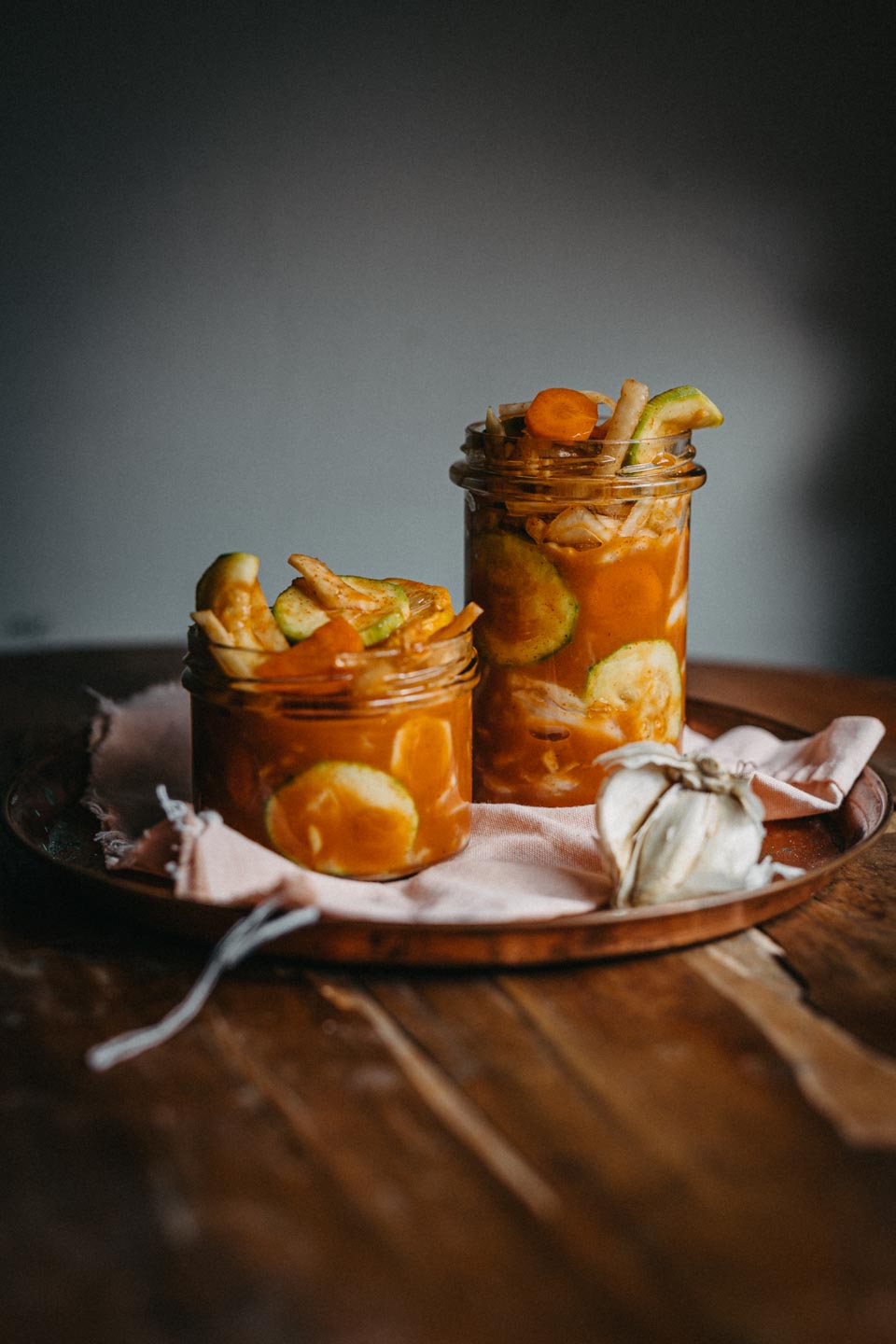 ---
You might also like
---
---