Vegan Kimchi Stew – a great way to utilize your Kimchi jar. Add some Rice Cakes and a slice of tofu or two and here's the perfect, nutritious and rewarding meal!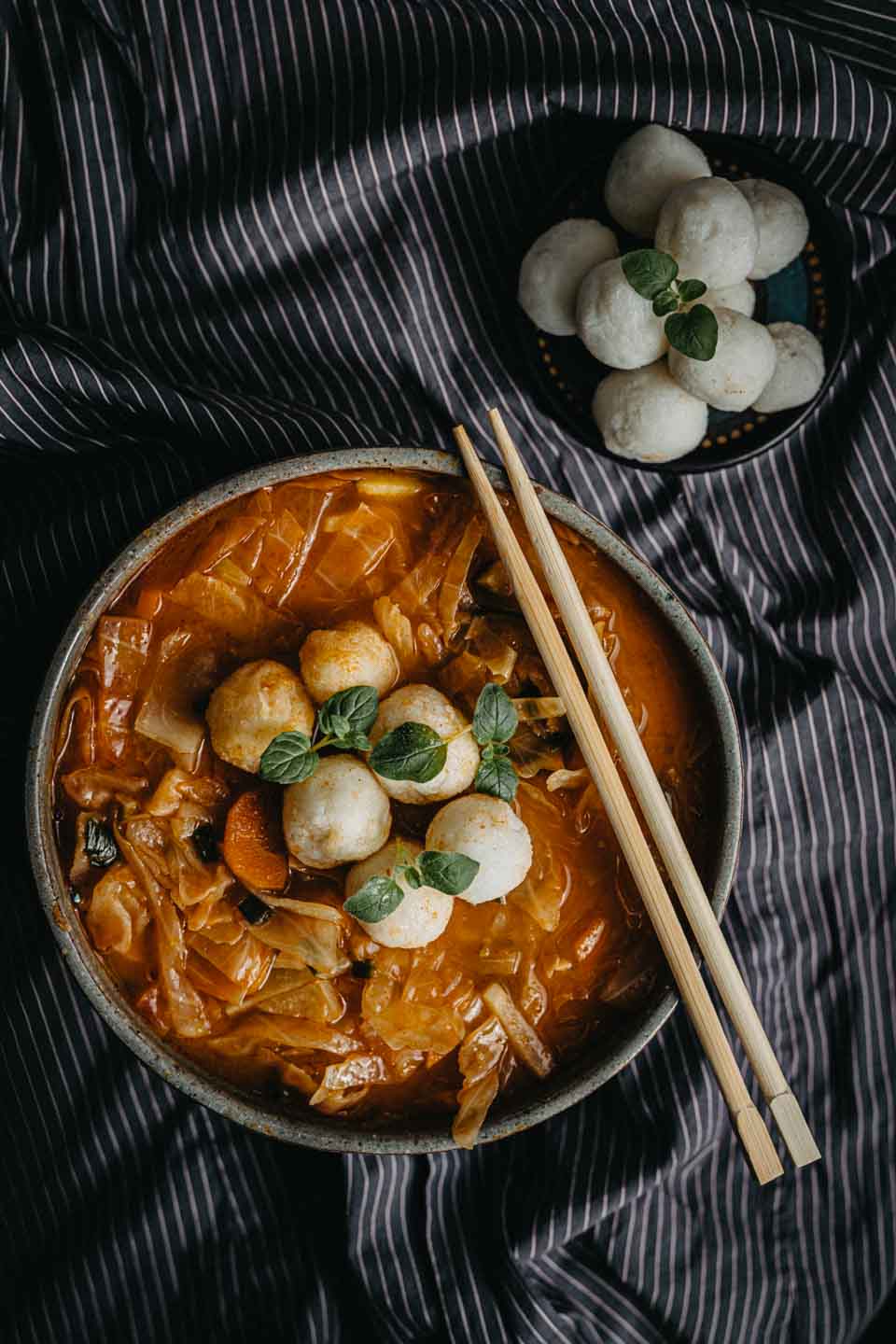 Well, if the times were different, of course I wouldn't be posting so often and recipes so close in thematics and ingredients… but these days when all is upside down but luckily, asks of us only to stay home (and cooking something would be fine), I posted on my Instagram about this dish and got asked to give a written recipe.

So here it is – Kimchi Stew or Kimchi Jiggae, all vegan, of course.

And adapted to what we have at the moment. So by the end of the day it may not be as authentic as authentic Korean would make it because when quaranteened, you have what you have and maybe don't have what you "should". So, heads up to winging it!

If you are interested, here is the KIMCHI recipe so you can make it yourself. Homemade is always better! Also, here you can see Kimchi Rice Stir Fry with Lentil Wedges.

I will write both Kimchi Jiggae (stew) and Rice Cakes recipes here but for the Rice Cakes, if you are more of a visual type, I think it's better to watch Maangchi do it herself – you'll get a better and more accurate glimpse into the whole story than just reading me about it.
KIMCHI JIGGAE (STEW) VEGAN
serves 4 or 2 really hungry ones

1 medium sized onion, sliced finely
a handfull or two of julienned veggies, zucchini, carrots, cellery root, kohlrabi, clean your frige. Mushrooms work really great but I didn't have any
2 cups chopped Kimchi
1 cup water
oil

Cook the onions on some oil until translucent. Add veggies, cook and stir for a min or two while it lets nice scent and colour. Add the Kimchi and enough water to cover it all. Cook half covered until the veggies get soft. Add more water if needed and depending on your liking it thicker or thinner. Serve immediately with rice cakes.

RICE CAKES (GARAEDDEOK
makes ca. 60 little balls or ca. 32 cilinder shaped rice cakes

2 cups of rice flour
3/4 cups of boiling water
1/2 teaspoon of salt

MICROWAVE METHOD: Pour the rice flour (with salt) with boiling water and carefully mix it in a (glass or ceramic) bowl so you don't burn yourself. Try to make it as lump free as you can. Cover the bowl with plastic foil but leave a little gap open for the steam to come out while cooking. Off with the bowl to the microwave and cook for 2 minutes. Take the bowl out (use kitchen mittens or tea towel, the bowl will be HOT), open the foil, fold the dough for a few times. Cover, leave the gap, cook for another 2 mins.
A quick note: from what I experienced – rice flour you have may not be as powdery as Maangchi's. Mine was almost grainy like semolina. So it may be pretty hard to mix, especially after the first cooking. Or I have left too big of a gap so too much of the water steamed out? I don't know, but if it happens that the dough is too hard to mix after the first cooking, add some more water but add small ammount gradually and just until you can work the dough, it still has to be firm and not soft at all.
Spread a little bit of oil (sesame oil, idealy, but any will do) on the cutting board, roll out and fold few times, carefully because it's hot. Start pounding the dough with a pestle (or rolling pin if you don't have that, or a beer bottle bottom or something) and pound and refold for a nice 5 minutes until it's smooth and elastic.

Then, rolling between your palms, make little balls. Or cylinder shaped rice cakes, by the size of your thumb. Rub a little, little oil over them so they don't stick, leave outside to dry a little or freeze them or use them in stews by placing them in the stew at the end of the cooking (they are cooked already) to soak up the juices.

STEAMER METHOD: line the steamer with the parchment paper and spread the dough over it. Cook covered for a nice 30 mins and then proceed as described above.

Also, you can leave the cylinders to dry for a few hours and then cut diagonaly.
---
You might also like
---
---